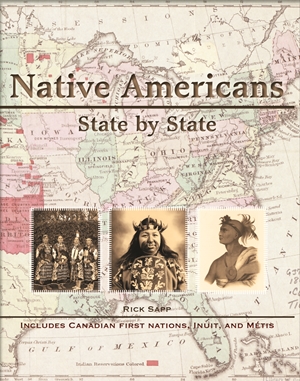 Sapp, Rick.
Native Americans State by State
. New York: Chartwell, 2018.
This handy reference volume works well as a supplement to units on Native Americans for upper elementary and middle school social studies students. It is full of photographs, maps, and other illustrations to enhance understanding. For each state, Canadian province, and even the District of Columbia and some of the Caribbean territories of the United States, information regarding the native peoples to that area is supplied. Typical entries include meaning of the state's name, a brief description of the area's geography, a brief glimpse at the culture and lifestyle, Native languages spoken, housing types, contemporary peoples native to the area, a list of recognized tribes present in the area, a map showing where native populations reside, a timeline, a narrative, and some photographs depicting the people and their culture. Since most regions only receive four to six pages, with an occasional entry slightly longer, the author cannot include everything. However, it is a good introduction. The book would have been enhanced by including brief bibliographies for each region so students or teachers wishing to explore more could easily locate resources that work for the age group. This book should be in upper elementary and middle school libraries and in many public libraries. This was a "read now" title at NetGalley. I downloaded it with the expectation that I would write an honest review. The advance review copy was entitled
North American Indian Tribes State-by-State
, but it was published under the title
Native Americans State by State
. The cover does mention it "includes Canadian First Nations, Inuit, and
Métis
.