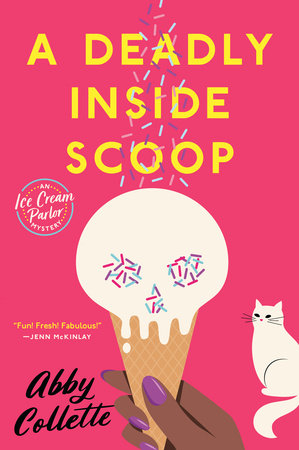 Collette, Abby.
A Deadly Inside Scoop
. New York: Berkley Prime Crime, 2020.
Bronwyn "Win" Crewse begins managing her family's ice cream parlor after a cousin's changes to its mission nearly causes its demise. Win wants it to do one thing well--ice cream--and avoid all the other things which did not separate it from other Chagrin Falls businesses. While playing in the snow, she falls over a dead body. When she realizes the detective suspects her own father of the dastardly deed, she and a friend investigate. The novel's pluses include an African-American sleuth, the ice cream parlor that tries to stick to locally sourced ingredients, and the character of Pop-Pop. The novel's minuses include marginalization and depiction of the police as incompetent, a sleuth who spends too little time in her new business, and the sheer stupidity of the sleuth and her friends when it comes to investigation. While I might pick up the second installment to see if it improves, I'm not in a rush to pick it up. I hope she spends more time in the ice cream parlor and less time exhibiting her stupidity in the next installment. I received an advance electronic copy through NetGalley in exchange for an honest review.